Image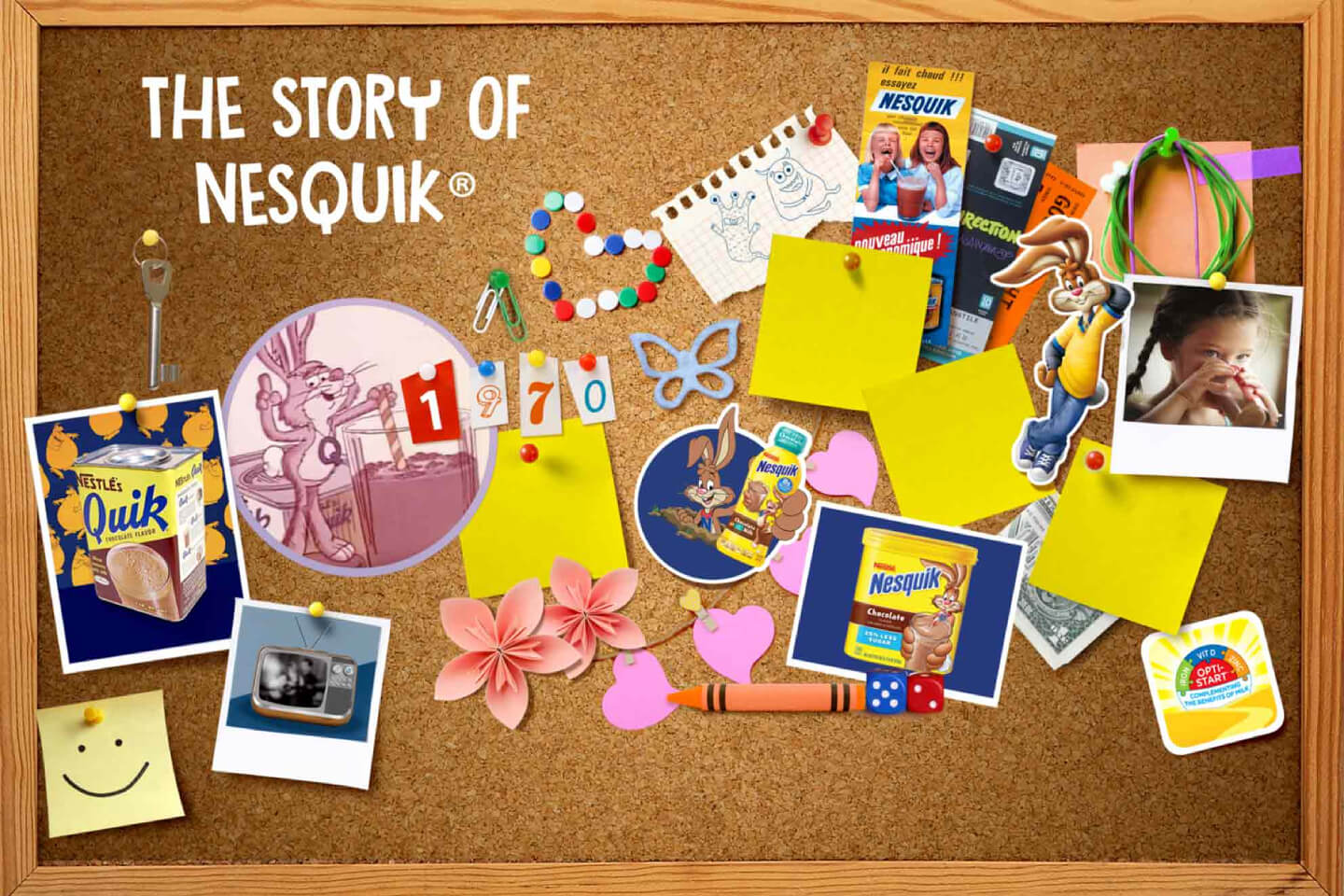 Our Story
The story of Nesquik®
It has been over 70 years since Nesquik® was first established in the US in 1948. With its iconic chocolate taste combined with a glass of milk, Nesquik® helps to make milk taste great for you and your kids. Keep reading to find out more about the Nesquik® story…​
1948
Nestlé Quik, born in the USA
Nesquik® 's chocolate milk powder was first introduced in the US in 1948 under the name Nestlé Quik. The instant chocolate drink was a big hit, a quick and tasty addition to milk that the whole family loved.
1950s
Nesquik® hits Europe
Nestlé Quik launched in Europe in the 1950s under a new name, Nesquik®. The chocolate milk drink was loved overseas, too with a new banana flavour powder introduced in 1954.
1957
The UK embraces Nesquik®
Nesquik®  reached the UK in 1957 and quickly rose in popularity, helping to pave the way for the brand eventually being sold in more than 100 countries worldwide. Nesquik®  is still a much-loved milkshake brand in the UK.
1960
Make way for Quicky
As well as debuting their new strawberry flavoured milk powder in 1960, Nesquik® also introduced us to someone new – Quicky, the Nesquik® bunny. The objective was to build the brand with a distinctive and loveable brand character that could be kids' secret friend. Quicky has always been there through the years as a fun partner to your Nesquik®.
1980s - 90s
More ways to enjoy Nesquik®
Nesquik®  added more fun and tasty ways to enjoy Nesquik®  throughout the years, with a range of Nesquik®  Cereals launched from 1999 onwards. 
2019
Nesquik® goes All Natural
In 2019, Nesquik® introduced its All Natural* range with all the fun and flavour of original Nesquik®, but made with natural ingredients and recyclable paper packaging.​
*made from natural ingredients
2021
Nesquik® today
Today, Nesquik®  remains a fun milkshake partner for the whole family. From Nesquik®  powder to chocolate milk, you can create lots of fun recipes with the unmistakable, unique taste of Nesquik® . Now in a range of delicious flavours with improved recipes.​
In 2021 and beyond, Nesquik® continues to work towards a brighter future for the generations to come, from widely recyclable packaging to increasing support for cocoa farmers and their communities. Growing up should be fun, so we will continue to delight kids as they grow with tasty products!​
Choose your nesquik
The delicious taste of Nesquik® is available in a variety of flavours and formats. Discover all the ways you and your family can enjoy Nesquik®