Image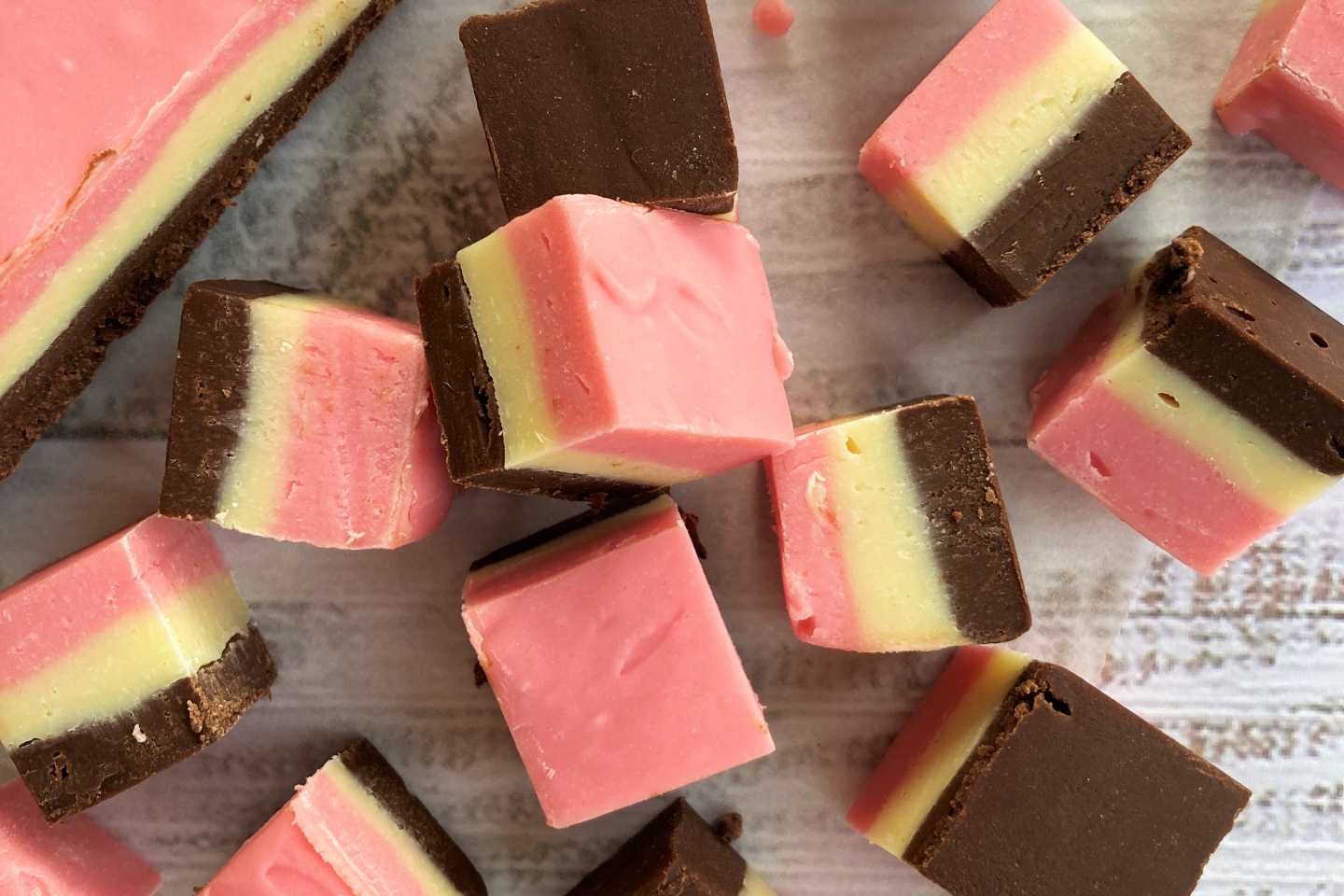 Neapolitan Nesquik Fudge
Try our really easy Neapolitan Nesquik Fudge recipe! With delicious chocolate, strawberry and white chocolate layers, giving this fudge our unique Nesquik taste.
Preparation time: 15 mins 
Chill time: 1 hour
Serving: 50
What you'll need:
300g Carnation Condensed Milk
500g white chocolate buttons
6tbsp Nesquik Chocolate Powder
6tbsp Nesquik Strawberry Powder
Few drops natural pink food colouring
You will also need: 18cm square cake tin or plastic food box and baking parchment
To make the fudge:
Line the cake tin or box with baking parchment so that it comes well up the sides (this makes it easier to lift out when its set).
Put the condensed milk and chocolate into a large bowl and set over a pan of simmering water to melt (or you can very gently melt in the microwave in 20 second bursts).
Put the Nesquik powders in two separate medium bowls and mix each to a paste with 1tbsp boiling water.
When the chocolate mixture has melted, put one third into the chocolate mixture, one third into the strawberry mixture and keep on third plain white.  Mix the flavoured fudges well until completely combined.  Add a few drops of pink colouring to the strawberry mix if you want a deeper pink colour.
Put the chocolate mixture into the tin and spread out with a spatula for an even layer.   Freeze for 5 minutes until set.
Gently place the white chocolate fudge mixture over the top and spread out gently trying not to disturb the layer beneath. Freeze again 5 mins.
Repeat with the strawberry layer and chill for 30 mins to 1 hour or until set firm.
Cut into 50 small squares and bag up to share!

FUN WAYS TO ENJOY Nesquik®
Discover fun new ways to make tasty recipes with Nesquik® and get the kids involved for some hands-on fun.